The education system has always been the most significant determinant in a nation's long-term economic, social and political success. Thus, it is evident that the vital role of professional development for educators should continue to be adequately addressed in both academic and policy circles.
A teacher's career is full of ups and downs. In a day, teachers experience a variety of emotions and work towards overcoming challenges. There are times when a teacher has to deal with students' behavioural problems, create engaging lesson plans for students, and even assess all the subjects in their class.
The Importance Of Teacher Training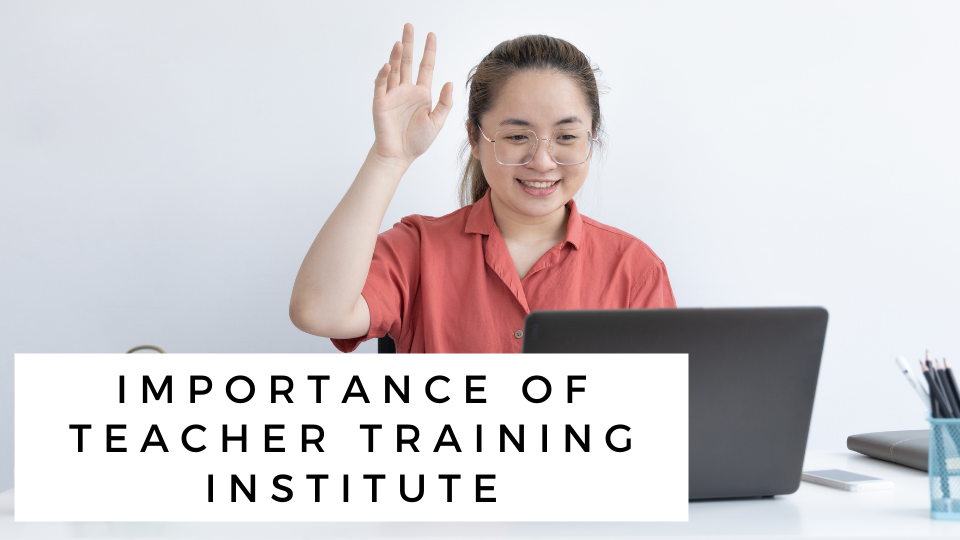 Teachers are the most crucial resource in improving the quality of education. The skills, knowledge and experience that teachers bring to their classrooms have an enormous impact on how well students learn and what they can achieve. Teachers can make all the difference in whether a student succeeds or fails.
With a focus on teacher training and professional development, schools can increase their capacity to provide high-quality learning experiences for students. Teacher training programs should be designed to ensure that teachers can address the challenges facing them today and tomorrow.
Development in improving the quality of education cannot be understated. Teachers must be well-trained and fully aware of the latest methods, techniques, and theories in their field.
Teacher training can help teachers learn how to best engage their students and make learning more engaging for them. It also helps teachers develop new ways of communicating with students, which makes it easier for them to understand what they're being taught.
Essential Skills For Effective Teaching And Learning
Teacher training and professional development are essential for improving the quality of education. The reason is that teachers need to have a wide range of skills if they are to be effective in their roles. 
Teachers must know how to teach, but they must also be able to make sure that students are learning, and that they can do so in an environment where they feel safe and secure.
Teachers also need adequate leadership skills, which include good communication skills, problem-solving skills and conflict-resolution skills.
The essential skills for effective teaching and learning are:
-It is influential to be able to communicate with students. That means teachers must be able to speak, listen carefully, and write legibly.
-Teachers need to be good at organising their time. They need to know what they want their students to learn and how they will go about teaching them.
-Teachers need to understand the difference between learning and teaching. They need to know what children can learn on their own and what they need help with.
-They should also know how they can improve their learning processes so that they can keep up with the changing world around them
Exploring Teacher Training And Professional Development
Teacher training and professional development is the process by which teachers learn to be better at their jobs. It can take many forms, but generally involves a combination of in-class learning, mentoring, and hands-on experience.
Teachers' training takes place in several ways: 
-they may attend university or college courses on teacher training (either online or on campus), 
-they may receive training from their school district or state department of education, 
-they may learn from their colleagues or mentors, or
-they may seek out private classes or programs designed specifically for teachers.
The goal of teacher training is to help teachers become better at their jobs. Teachers are often given classes about new teaching techniques and strategies, as well as information about how to handle difficult students and situations that arise in the classroom.
Professional development programs are often offered to teachers who have already been trained in certain areas; these programs allow them to continue learning new things about the subjects they teach so that they can continue improving their skills.
Online Teacher Training And Professional Development
Teacher training is an essential part of any education program. It helps students develop their skills and knowledge, as well as prepare them for upcoming exams. The most important thing about teacher training is that it should be done in a way that will allow teachers to prepare for the upcoming exams. Our online teacher training courses are designed by experts who have years of experience in this field, so they know what you need.
Common Obstacles To Teacher Training And Professional Development
Teachers are often given little to no support when it comes to professional development and training, leaving them to fend for themselves in the face of all manner of obstacles.
One common obstacle is a lack of time. Teachers already have a lot on their plates: lesson planning, grading papers, meeting with students and parents, etc. So when it comes to finding time for training, they often have to make sacrifices in other areas of their lives.
Another obstacle is cost. Professional development can be expensive—even if you get financial aid—and many teachers don't have the money to spend on it.
And then there's the problem of finding the right kind of training for your needs. There are so many different kinds of training available that it can be hard to figure out which one will best suit your needs (and how much time you'll get out of it).
Classroom Management/Discipline
Education is a fundamental factor in the development of an individual. Teachers are responsible for the education of the students, and therefore they have to be well-trained and professional enough to perform their duties efficiently. 
The quality of education can be improved by ensuring that teachers are well-trained and professional, but this can happen with proper teacher training programs. 
Teachers must be trained on how to handle classroom management/discipline issues in schools to handle them efficiently and effectively. 
That will ensure that students do not disrupt the learning process, thus improving the quality of education.
In addition to teaching students about academics and skills required for future careers, teachers also need to teach children how to behave appropriately in school settings. 
That includes how they should behave when interacting with classmates as well as adults like teachers or administrators who oversee their daily activities at school, such as lunch periods or recess where there may be some conflict between two groups of students over something silly.
Curriculum Development And Implementation
Teacher training and professional development are crucial aspects of improving the quality of education in a country. It is necessary to ensure that teachers are well-qualified and trained to deliver quality education to the students. Teachers should also be provided with continuous training to keep up with the fast-changing world. The curriculum development process should involve teachers and other stakeholders to be implemented effectively.
Organisational Skills
Teacher training and professional development can ensure teachers have the critical skills to teach effectively. When teachers have the skills and knowledge needed for their jobs, they can be more confident about their abilities, which will help them to provide better instruction for students.
Teacher training and professional development are also noteworthy because it enables teachers to learn from others' experiences. 
That can help them improve their teaching methods and learn about new teaching techniques that may be useful for them in their classes.
Knowledge Of Basic Teaching Skills
Teachers are the most noteworthy people in a student's life. They shape their minds, shape their future and provide an environment that can be nurturing or harmful. 
A teacher's job description is not just to teach but also to care for their students and help them realise their potential.
Teachers should have a firm grasp of the fundamental teaching skills that will enable them to create an effective learning environment for their students. Teaching is a skill that takes time to master, especially when you consider all the different subjects, methods and techniques that can be used in the classroom.
Teachers should have a good understanding of how children learn best so that they can structure lessons accordingly.
Conclusion
Teaching students in a language other than the same language that is being spoken or thought in the country where they live or are living is extremely challenging. Many foreign countries are starting to offer teaching materials that are used around the world, and are being utilised as educational resources. 
Students will learn valuable information if only they effectively communicate with their teacher. Training and professional development will improve the chance that teachers will have the knowledge needed to effectively teach foreign students.