Education, which is a key factor in human development, is a highly debated subject in today's world. There are numerous debates over the quality of education being offered to students through various institutions and systems. The quality of an education system largely relies on the quality of teachers who are educating their students.
Teachers create the foundation for young minds by passing down knowledge to them, shaping their mindset and contributing towards the building of a nation's future.
As per research conducted by boarding schools in Dehradun , though there have been major improvements in the education system all over the world over time, there have been several flaws in this process too. This article shall highlight such flaws and come up with solutions for tackling them, specifically for India.
Prime Minister Narendra Modi highlighted the importance of education in shaping India's future. Without an "educated and skilled" workforce, he said it will be impossible for the nation to transform itself into a developed country. He added that any progress achieved by a country is unsuccessful in achieving its full potential if it is not accompanied by harmony.
The current state of the Indian education system
How is the education system in India unique?India has one of the largest and most diverse education systems in the world. It is also one of the most inefficient, with a high dropout rate, low learning outcomes and poor governance. The country's education system has been ranked 140th out of 183 countries according to the Global Competitiveness Index, which is lower than many countries in South Asia (e.g., Bangladesh ranks 102nd).
The lack of quality education has been identified as one of India's key constraints for economic growth by several studies over recent years. The World Bank estimates that if India can increase its gross enrolment ratio from 42 per cent to 65 per cent by 2030 — closing almost half of its gap with China — its GDP could grow by as much as $1 trillion per annum.
The government has taken some steps to improve access to education with its Right to Education Act 2009, which guarantees free and compulsory elementary education for all children aged 6-14 years. However, these initiatives have not resulted in better learning outcomes because they do not address issues related to quality or equity.
There are two main reasons why India's education system needs reform: it fails to meet demands from a growing economy and society; and it is unable
Progress and achievements in recent years
The government has taken several steps to improve the quality and scope of education in India. The Right to Education Act (RTE) was passed in 2009 with the aim to provide free and compulsory education to all children between 6 and 14 years of age.
The Act also mandates 25% reservation for disadvantaged children, including those belonging to SCs, STs and OBCs, in private schools which are receiving aid from the government or are being run by religious or linguistic minorities.
There has been a significant increase in enrolment rates at all levels since independence – primary school enrolments rose from 46% in 1951-52 to 95% in 2011-12; secondary school enrolments rose from 1% in 1951-52 to 19% in 2011-12; and higher education enrolments rose from 0.7% in 1951-52 to 10% in 2011-12.
Enrolment rates for girls have increased significantly compared with boys at all levels except for higher education where boys have better enrollment rates than girls.
The role of the education system in shaping India's future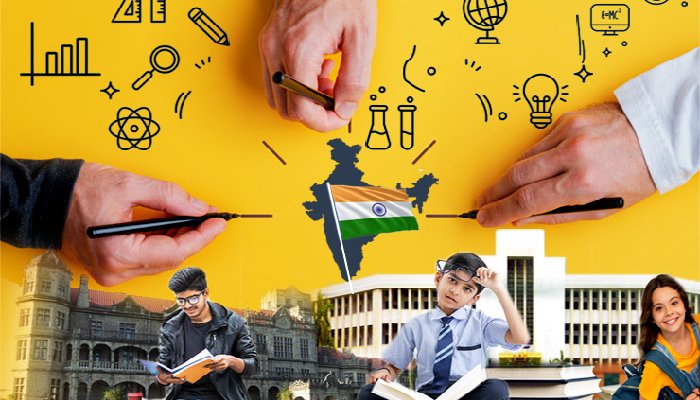 India's young population is set to become the engine of its growth. In this context, our education system has an important role to play in shaping India's future. We must give our youth the best education and skills so that they can contribute to India's progress.
We have been working towards improving the quality of education at all levels, from primary to university. We have taken several major decisions including the Right to Education Act and the setting up of Kendriya Vidyalayas and Navodaya Vidyalayas. These measures will help provide good quality education at affordable costs to every citizen of India—especially our children from weaker sections of society.
To ensure that every child gets a chance to study in an English-medium school, we have launched Rashtriya Madhyamik Shiksha Abhiyan (RMSA).
This programme aims at providing better infrastructure facilities to government schools across the country so that they can provide quality education in English medium from Class 6 onwards as well as improve teaching methods through technology-enabled learning tools such as computer labs, smart boards etc. Under RMSA, we are also providing free e-books for students upto
President has said that the education system will play a key role in shaping India's future.
She was speaking at the inauguration of the first Indian Institute of Technology (IIT), Ropar campus, in Himachal Pradesh.
"Education system can play a crucial role in shaping India's future," he added.
The president said that investment in technology and digital infrastructure will improve access to education. He also stressed on the need for quality education.
Modi said that IITs are contributing to nation-building by producing high-quality manpower for industry and government organisations.
She also highlighted the importance of research work done by IITs and urged them to come up with more innovative ideas which can be implemented on the ground
 The importance of teacher training and professional development
The education system of a country is one of the most important factors that determine its future. In India, where more than half of the total population is under 25 years of age, it is imperative that we ensure that our young generation receives a quality education. The importance of teacher training and professional development can never be understated.
The education system in India has evolved over time. From being limited to a few select schools and institutions, it has now become available to students from all walks of life. However, this accessibility does not necessarily translate into quality learning for all students in all schools across the country. The lack of trained teachers and resources makes it difficult for many children to get access to quality education in their own areas.
Teachers play an important role in shaping our future generations. They are responsible for imparting knowledge and skills to students so that they can grow up to be successful adults who contribute positively towards society as well as themselves. A good teacher will motivate students by engaging them with interesting topics and encouraging them to participate actively in class discussions so that they learn more effectively.
Teachers also make sure that each student gets individual attention during lessons so that they can progress at their own pace without feeling left behind by others around them who may be ahead in terms
 Conclusion
India's education system is being reshaped by rapid changes in technology, the economy, and society. It requires ongoing attention if it is to produce graduates with the skills demanded by the country's diverse labor market. The country is likely to see strong increases in employment in some sectors of the economy, a gradual transformation of the nature of work itself, and pressures on the education system to deepen and broaden its output.
The next few years will determine whether India's effort to reshape its economy and society succeeds; how much progress is made toward educating all citizens and raising skill levels over time; how ease of access to education evolves; how school quality improves and outcomes change due to new technology; and whether groups that previously escaped or were left behind can now benefit from this expansion.
The current system of education in India has helped it achieve a degree of economic change unparalleled by many other countries. But the future of India is still very much in its hands, and will largely be determined by how they approach the issue of education going forward. India must continue to invest heavily in their public education system and strive to provide quality education for all.
Doing so will not only help them develop economically, but will allow them to better realize the goals set out for their country after independence.
For any queries related to parenting, schooling, or any student-related tips, click here to check out our latest blogs