A school is a place where parents send their children to accomplish to the best of their capacities with effective discipline and time management within a protected, safe and comfortable boarding environment at a girls boarding school away from home. They place their trust in the educators and staff of the school to guarantee the security of their children.
Our children are our future. They are the ones who will take our legacy further and improve new systems of making human life better and more agreeable. But let us not discuss the future; let us bring our focus onto the present and the security of our children in this day and age. Schools provide various safety measures to their children so they remain safe. 
The Ecole Globale School for Girls condemns unfortunate child abuse events. We accept that once the kid enters the school, the school board must deal with their security measures. Girls Boarding schools are responsible for making sure that they make a danger-free condition for children where they feel secure to open up their brains for learning in a safe environment distant from their comfort shells. The peaceful ambience of the campus is an ideal place for receiving education in the tender years of one's life, which is why Ecole is proudly one of the most beautiful campuses across India.
Ecole Globale | The Safe and comfortable boarding school for girls   
Ecole Globale International Girls School is a fully girls boarding school situated in the educational capital of India, Dehradun. Established in April 2012, Ecole Globale is run under the aegis of the Asian Educational Charitable Trust. We accept that happy and secure children can spread their wings to unleash internal potential, to open up their brains for learning in a safe environment.
To register any policy the first step is generating awareness. We at Ecole Globale have sessions to freely make the girl boarders aware of realistic problems in society and empower them to stand up for themselves and their peers in case of any mishappening. It generates sensibility and sensitivity within minds and keeps them alert in situations. 
Outline for Session at Ecole Globale
Telling them about good and bad touch.

Paying attention to the groups of individuals the child invests the most time to have the option to contact somebody in an emergency.

If a child feels uncomfortable about a person or situation, hear them out and attempt to understand the problem.

Normally chat with children about their exercises and activities during the day.

Ensuring that the recreation centre/play area or whatever other spots where the child goes to is in a secure neighbourhood and has a child-friendly staff.

Keeping up an open association with your kids so they can feel free to convey their interests to you and not be stressed over being ignored.

Causing your children to have faith in you. Make sure they know you are consistently there for them and that they can admire and share with you.
A large majority of the academic and sports faculty resides on the campus, to make the post-school hours experience a pleasure for the students, while imparting them quality education in and out of classes. ​​​​For an enriching experience of its sort, Ecole Globale is happy to organize field trips, educational trips or excursions. In addition to the above, there are ample prospects through which the girls at girls boarding school get truly international exposure, through cultural exchange programmes, tournaments or the participation of student fraternity from across the country, for national-level events.
These activities help the students be more aware of their surroundings and grow fearlessly to help where they can, however they can. This we believe is essential for a global citizen of tomorrow! 
Security Measures at Ecole Globale
Routine rounds of each floor, passage, and corner of the school by instructors to guarantee that no part of the school is left abandoned.

CCTV Surveillance of the whole girls boarding school grounds by committed staff

Mindful conversations are sorted out to teach the children about their privileges and about what sort of conduct towards them is acceptable and what isn't.

We have an in-house doctor to handle health issues and to give thorough social insurance to children.

We have vigorous communication between parents, instructors, and students.

The comfort and security of every girl travelling for excursions or camps is paramount to us, which is why faculty members (male and female) travel with the students. Further, the security guards (including lady guards) ensure that girls are not unattended when they require protection in unknown locations.
A serene hostel- Home away from home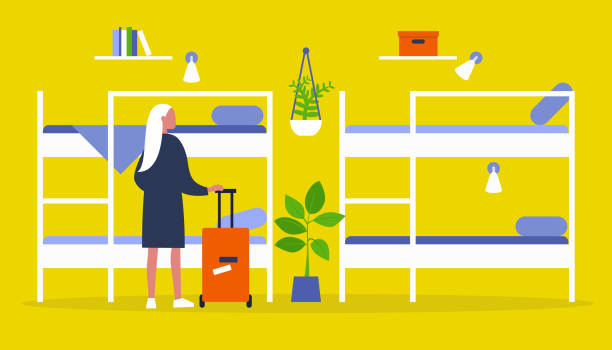 At Ecole Globale we understand how important it is for a child to come home to a space that is warm, inviting and comforting. That's why, as a girls boarding school, one of our core working areas is the residential facilities that create a home away from home. Designed to provide every child with the comfort of home, the hostel is a spacious, top architectural designed sunlit space with carefully planned sleeping and recreational arrangements. 
The support staff, domestic staff, housekeeping and other elements of the campus contribute in their unique ways towards the betterment of the life of our girls at Ecole. This has a value-based impact on the students and they learn the values of gratitude, patience, perseverance, and hard work.
Under the supervision of the Dean of Pastoral Care, we have highly trained House Mothers Mentors, Guardians, ayahs and lady guards who stay on the premises and cater to the needs of the girls round-the-clock.
Infirmary & Dining 
The health and safety of girls is of paramount concern to us. The girls boarding school have an in-house health care centre with a full-time residential doctor, 2 nurses and ayahs who work round the clock. In case of any emergencies, the case will be rushed to the nearest multi-speciality hospital. A well-equipped ambulance is also available for 24 hours. Eye, ENT, Dental and Skin check-ups are organized periodically by the resident doctor.
We ensure that every meal is nutritious and wholesome. The school caters to the specific dietary requirements of the girls and also provides them with a taste of world cuisine (Indian, Continental or Chinese) in the school dining hall. The mess managing committee plans meals together with the student council, where they are encouraged to contribute to their choice of meals and make recommendations.
We, at Ecole Globale International Girls Boarding School, are committed towards the wellbeing and security of every student. We accept that only happy and secure children can spread their wings to investigate their internal potential and gifts. Regardless of whether it's scholastics, other activities, well-being, or mental and physical security when children are inside the school grounds, they become our prime obligation. We want to guarantee the parents of our students that your dear children are in safe and comfortable boarding.